It wasn't our intention to keep Leia after Morten asked me to practise her for the shows. But since my daddy fall in love with her we decided to keep her in co-operation.
Leia has been shown lightly as she needed a long time to mature. She then has her first litter at OB-LA-DI with 2,5 years.
She proves very well as a broodbitch with so many nice and successful puppies.

As well as Cash she does have my favourite Bangor lines in her pedigree that I do love so much including lovely Daragoj Dogs which I am so proud of.
I am delighted to have Leia with that great pedigree in my Kennel.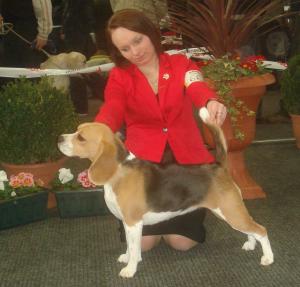 Best Open bitch in Drzonków (PL)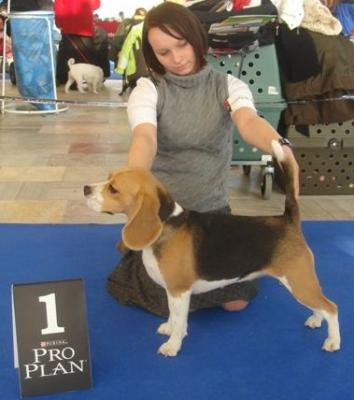 Best intermediate bitch in Olomouc (CZ)
fSir
AUSCH GRCH Beagelee Finnish Spirit

Sire
AUCH Toonhund Cagney
Sire
Beagelee Air America
Dam
Toonhund Spring Amber
Dam
NZCH Daragoj Personal Agenda
Sire
USCH Echo Run Frolicsome Fella
Dam
Daragoj Kastehelmi
Dam
DKCH OB-LA-DI' s Winsome Amidala


Sire
MulitCH Daragoj Country Classic
Sire
Clairon Crystal Fire
Dam
Daragoj Lovenote
Dam
Bangor Sea Pictures
Sire
Starbuck Torbay Music Man
Dam
Bangor Beatrice Sour Cream