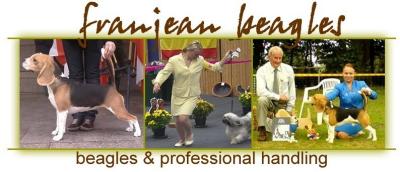 We are living in a small city near to Hamburg in the north of Germany.
Originally we are from the south of Poland and moved to Germany in late 1989 when I was a baby.
Beagles became a part in our family when I have seen a covered Beagle.
We were lucky to find a breeder in Poland who lived very closed to us.
What a great day it was when we called the breeder and she told us that there is a Beagle male left. We've decided to visit the breeder and so Bey Lazarowe Wzgórze came in our house.
After a year we have decided to show the young boy and that was the time we were infected by the showring. At the show Daggi became best Juniorhandler in show and so a successfull Juniorscareer began.
Bey finnished his polish Championtitle in 5 shows – he wasn't so bad after all.
After a short time it was me who wanted a real showdog.
I asked my very good friend Morten Johansson from Denmark for a puppy and then we waited – for a long time.
I have seen many litters and then he was there CH OB-LA-DI' s Blether Like Franjean "Cash" was born. He moved in our house in 2005 and he is my little wonderfull boy – I just love him.
Cash is a successfull showboy and we are looking foreward to seeing him as stud in our Kennel.
2007 Morten asked me to grow up one of his puppies. OB-LA-DI' s Princess Leia moved in our house. After half a year we have decided to keep her in our future and co-breed with Morten.
Leia will have her first litter in early 2009 back to the Daragoj lines.
Beagles have made our life full. We' ve shown in many european countries and we've attended the CRUFTS Dog Show and the World Dog Show in Mexico 2007.
We' ve met many wondeful people and are happy to found some great friends.
2009 will be an interesting year in our Kennel. We will move to a new house to give the dogs more place. I will attend at a Scottish Dogshow and will make our Kennel complete...

I have already visited some shows in other countries to see interesting Beagles overseas. Like in Mexico at the World Dog Show or every year Crufts Dog Show in Birmingham.
Daggi
I want to thank all the people supporting me. My parents at the first side and my lovely friends. My dear friends from Goldenimpressionen Beagles for travelling with me around Europe. Morten my mentor and many friends overseas helped me to become what I am.