2015
** new puppies *

Stine' s puppies were born on september 25th. They are sired by our own Cash.
We have one male and four bitches.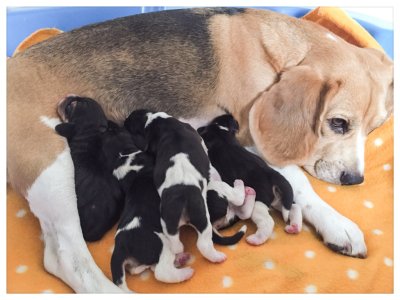 Clubsiegerschau Kampehl (D) july 24th
Judge: D. Craig (UK)

While our girls were on holidays in Poland together with Senna we did not enter any dogs at the show.
But we (Cash, Johannes and me) decided to go there as a visitor and there can't be many shows where I am not in the ring.

I did show Cuddling Cheek's Finest Assam who got the prestigious "Clubsieger 2015" title and Franjean Nediva who was awarded Reserve Best Bitch behind the eventually Best of Breed winner. She then went into the ring with Johannes and was declared Best Head of the day.

We could not ask for a better day. Thank you Beate & Heinrich for entrusting me your dogs.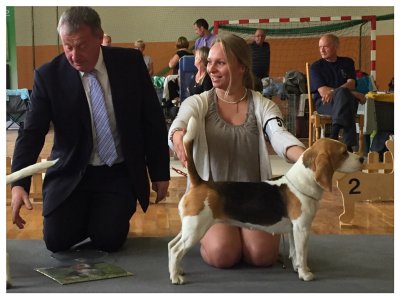 Nat'l Dog Show Meisdorf (D) july 5th
Judge: T. Ralfe (SA)

While we were on my cousins marriage Miss Mia was on holidays with her breeders Beate & Heinrich. They attented a show together where Mia wins another Intermediate Class and her 3rd point towards the title in a row.
Franjean Nediva is awarded reserve best bitch.

Int'l Dog Show Erfurt (D) april 21th
Judge: S. Peter (D)

Mia Mia wins Intermediate Bitches again. Franjean Nediva goes further today and is awarded Best Bitch with CAC.


Nat'l Dog Show Erfurt (D) june 20th
Judge: I. Huber (D)

Mia Mia wins Intermediate bitches and Reserve Best Bitch at her first outing with the adults. Franjean Nediva wins Working Class.

Int'l Dog Show Chemnitz (D) april 18th
Judge: M. Levente(H)

Mia Mia wins Junior Bitches and was declared Best Junior in Breed. She is a German Junior Champion now.

But I am more than happy about Stine who became second in a very strong Open Class. I have entered her just to get her last needed show for breeding and than that....

Nat'l Dogshow Zabrze (PL) april 12th
Judge:
Two Franjeans at this show today.
Franjean Nediva who's owned by Beate & Heinrich Quast wins working class and her second CWC.
Franjean Stine Lotta goes one better being awarded Best Bitch with her second CWC too.



Nat'l Dog Show Glogow (PL) january 25th
Judge:
Franjean Stine Lotta is back in the ring and wins Open Bitches with CWC.

Manchester Championship Dogshow (UK) january 15th
Judge: J. Horswell (UK)
This show proved to be a fantastic one for the Franjean siblings Candy and Rosie.

While Rosie (Franjean Check Me Out at Fairleedale) gets 3rd in Minor Puppy bitch her sister Candy (Franjean Candlelight for Salenko) wins Minior Puppy and Puppy Bitch and was declared Best Puppy Bitch.
Both have qualified for Crufts 2015 now !!!





Congratulation to Rosie's owners Mike & Christine Hartland and to Candy's owners Liz Calikes and Lynn Bailey.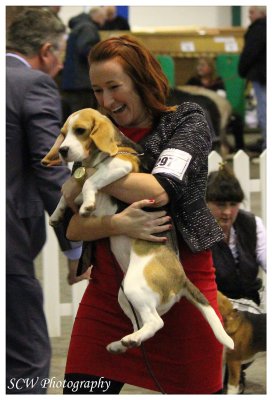 **Candy with Lynn - pictured by the talented Sam Webster**

Int'l Dog Show Nürnberg (D) january 10th
Judge: R. Spörr (A)
First show of the year and what a good one...

Mia Mia wins Junior Bitches and her second point towards both Juniortitles and was declared Best Junior in Breed.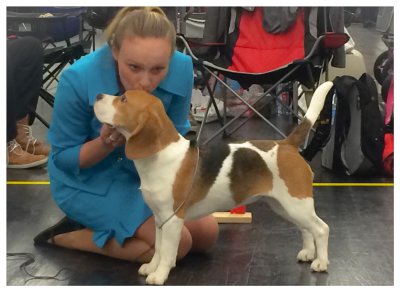 Thank you to the judge and congratulations to all winners!


To view our 2014 news click here