2011
Nat'l Dog Show Kassel (D) december 7th
Judge: R. Spörr (A)

Wohoo Hertta hits the german showring...

Franjean Adelaide for Komsilan "Hertta" goes Best Junior in Breed at her first dog show in Germany!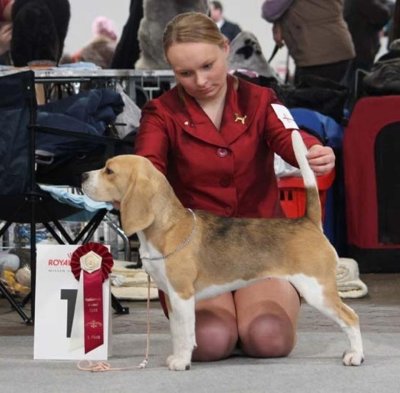 Winner Amsterdam (NL) november 27th
Judge: Paolo Dondina, I

What a lovely day in the Netherlands with all the UK girls.

Breeze won her class and was awarded best bitch and Winner Amsterdam 2011.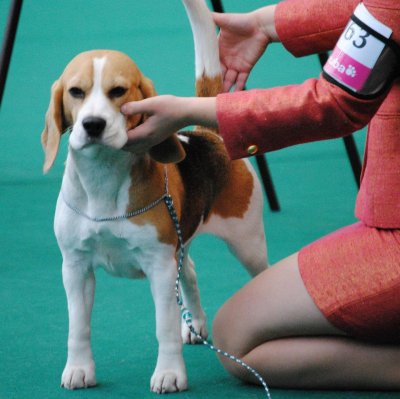 This retires Breeze now. I will just bring her our for some Speciality Shows and Intl' Shows.
It's also winterbreak for Senna & Breeze now.


National & International Dog Show Stuttgart (D) november 5th & 6th
saturday: W. Warneke, D sunday: T. Warneke, D

Breeze was reserve best bitch both days & Senna is Juniorwinner Stuttgart & Juniorwinner Baden - Württemberg now!


International Dog Show Hannover (D) october 23rd
Judge: Deryck Player, UK

Another great show for my showteam..
The star today was Breeze as she was awarded Best Of Breed!

Senna was reserve best male!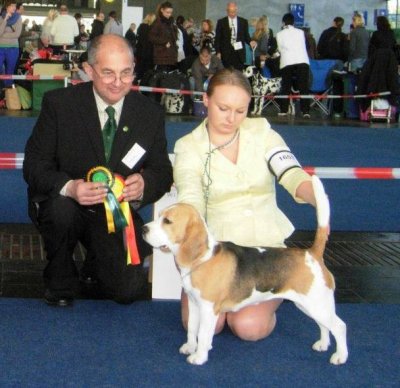 National Dog Show Dortmund (D) october 14th
Breed: Noreen Harris, AUS
Group: Stefan Sinko, SLO
BIS: Hans Wiblishauser, D

Wohooooo... What a weekend in Dortmund!

It was Senna' s weekend as he was awarded Best Of Breed and later Best in Group VI!
Back on sunday he was awarded RUNNER UP BEST IN SHOW!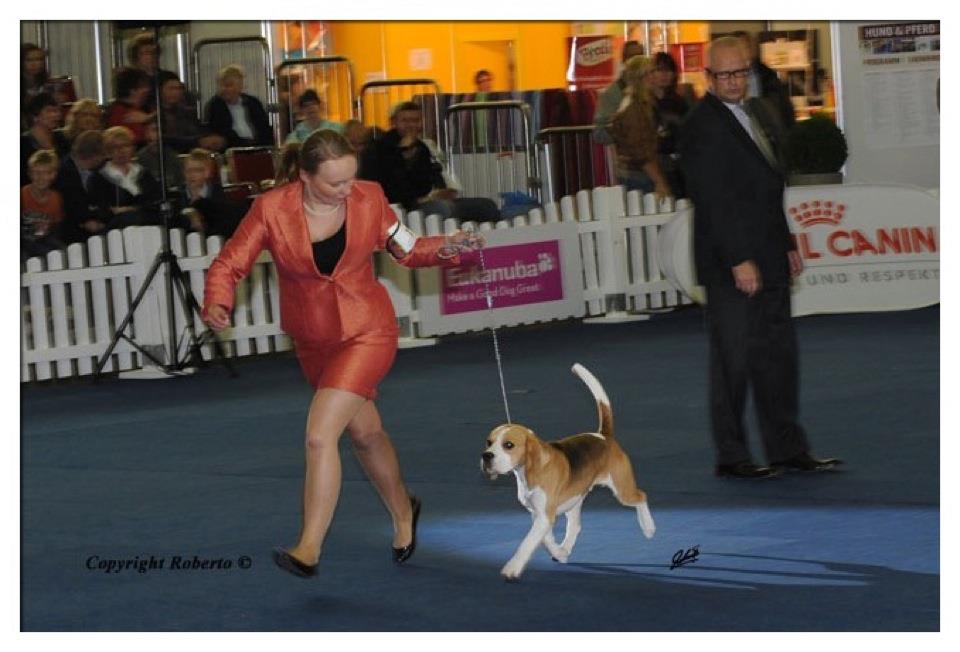 It was also a great show for Breeze.
At her first show in Germany after her return from Scotland she won champion bitches and finished her German Champion VDH.
Thanks to all the judges!!



The weekend of september 17th & 18 was one of that "never to forget ones" or "a champion weekend".
On friday we started to Denmark for the Beagle Speciality in Ulstrup with Jane May (UK) as the judge.
Breeze did a fabulous job and became best bitch which means that she is a Danish Champion now.
Not to forget Senna who got a nice 2nd in a hard Junior Class.
The day after we had another show. This time in Poland at the National Dog Show Zielona Góra with G. Weron (PL) as the judge.
Senna became best junior dog & best Junior in Breed.
Breeze continued this weekend with another title - today new Polish Champion!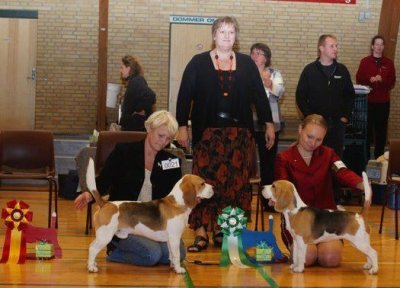 Once again I spent lovely holidays with my very special friend Liz Calikes (Newlin Beagles).
We attended some shows and had some lovely days together.
I really enjoyed all shows in great company.
Leia was left with Liz to be bred to Newlin Flint JW and took Breeze back home to continue with her in the showring.
Thank you Liz for all your help.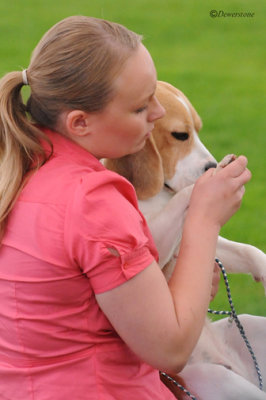 City of B'ham Championshipshow (UK) september 2nd
Judge: B. Roderick (UK)

Senna finished our shows over in the UK in style.
He wins Puppy & Junior Dog Class and becomes best puppy dog!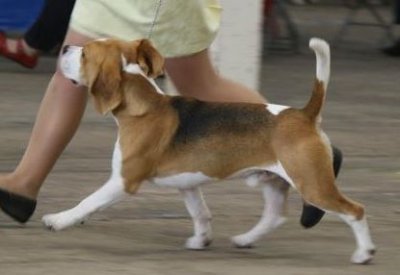 Thanks to the Judge Barbara Roderick!

Scottish Kennel Club (UK) august 28th
Judge: T. Jones "Eardley" (UK)

What a great day we had under Tim Jones "Eardley"...
Senna becomes Best Puppy In Breed and res. Best Male - Breeze goes even better as she gains Best of Breed.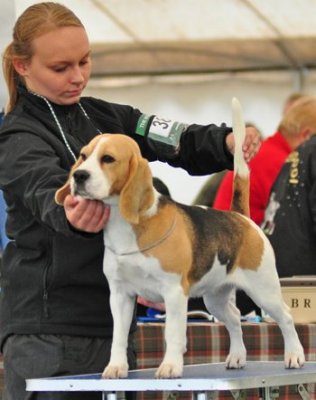 Thanks to the Judge!


Northern and Midland Beagle Club (UK) august 27th
Judge: K.Cooper (UK)

Senna qualifies for CRUFTS 2011 at his first show over in the UK out of Puppy Dog.

National Dog Show Heinola (FI) august 21st
Judge: Kirsi Nieminen (FI)

Hertta continues her winning way in Finland and takes home a BEST OF BREED!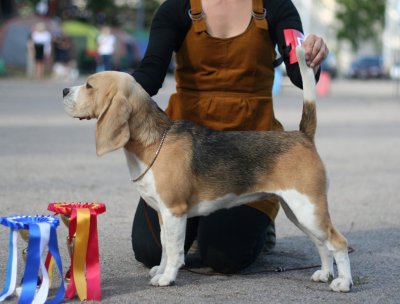 Thanks for taking care of this lovely girl!

International Dog Show Leipzig (D) august 21st
Judge: P. Beyersdorf (D)

At his 3rd weekend out and still with 9 month ...
Senna gains his crown class win to finish his German Junior Champion VDH & BCD.
He also gets the title Junior Winner Leipzig 2011.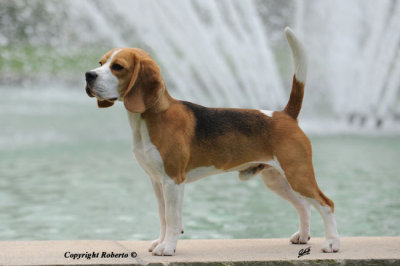 Thank you to the judge and for the great company with my friends and mommy.

All Breed Show Valkeakoski (FI) august 13th
Judge: Cindy Kerssemeijer (NL)

Great day for "Hertta" (Franjean Adelaide for Komsilan).
She becomes Winners Bitch wins her first cert for the Finnish Champion and is reserve Best Bitch over champions!
Way to go team Komsilan!

National Dog Show Bremen (D) july 31th
Breed & Groupjudge: G. Kastl (D)

Oh... What a weekend...
Senna wins "back-to-back" BEST JUNIOR IN GROUP!


Thanks to judge Gerda Kastl!



International Dog Show Bremen (D) july 30th
Breedjudge: J. Pohling (D)
Groupjudge: E. Deutscher (A)

WOW - this was Senna' s first outing in junior males and he did so great.
He won his class and became BEST JUNIOR IN BREED and later on BEST JUNIOR IN GROUP!
I am so proud of my little boy.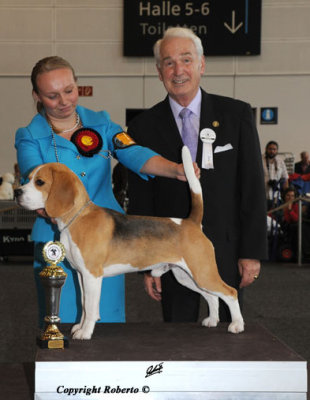 Thanks to the judges!



International Dog Show Szczecin (PL) june 8th

Franjean Ayrton Senna wins another "Best Puppy in Breed".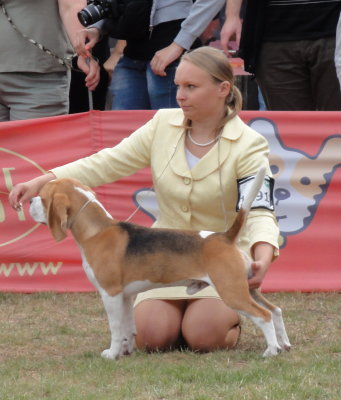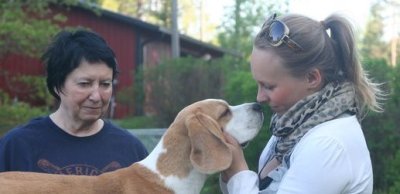 Due my stay in Finland in may I also had the great possibility to meet Eeva Resko from famous Daragoj Kennels.

We spent some lovely hours watching and talking about our dogs.


While I was in Finland I recived another nice message from Liz which told that Breeze won open bitches and the RCC at Scottish Kennel Club on may 20th under Daphne Ayland...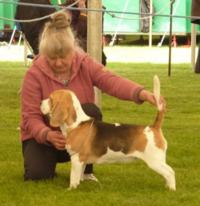 Time flies.. This was the show where I showed Breeze for the first time... Already two yrs ago...


**Cash' puppies at Komsilan Kennels in Finland at the age of 8 weeks**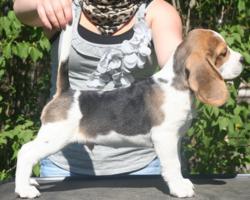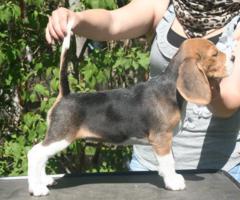 Komsilan Busy Signal & Komsilan Bam Bam Dilla



Beagle Club of Northern Ireland / UK - mach 16th


Judge: Pat Clayton


What a fabulous day for Liz & Breeze...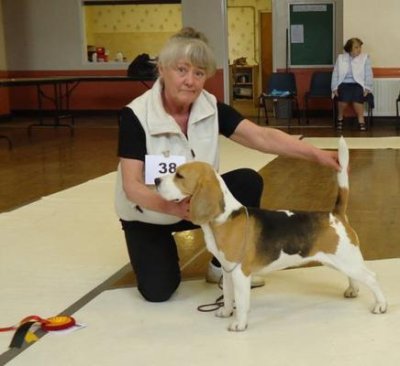 I was thrilled when Lynn mailed me that Breeze won Open bitches, BCC and res. Best In Show!!

Thank you Liz for taking such good care of my lovely girl and thanks to the judge for that Award.
****

This weekend proved to be an even better when I was informed that "Hertta" - Franjean Adelaide for Komsilan became BOS at Helsinki Puppy Dog Show!!!



***Good day for the Franjeans***
It was "Senna's" first outing in Germany at the CAC Show in Berlin on april 3rd under W. Western (IRL) where he got a very promissing 1 in the babyclass.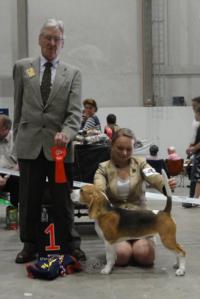 Not to forget "Cash" who won the honour class.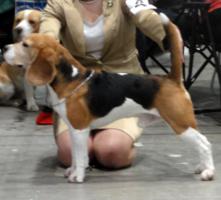 And the day proved to be even better when I heard that "Franjean Aldelaide for Komsilan" became best baby in breed and 3rd best baby in group in Helsinki under breed specialist Eeva Resko (FI).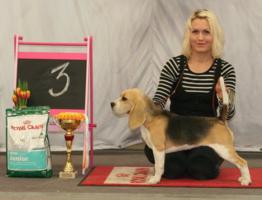 "very good type. very promising female bitch, very good head, beautiful dark eyes, exellent front, very good upperline, enough bones, moves all along well."
Thank you to the judges and congratulation to Pilvi & Janne!!!

**Puppies born at Kennel Komsilan (FI) on march 26th by Cash**


Iita gave birth to 2 puppies (1/1 tri) tonight.
Welcome Gunvald and Dilla!!



Four Counties Beagle Club Championship Show/UK - march 20th
Judge: Jill Phillpot (Charterwood)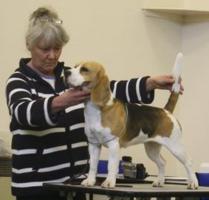 Breeze is back in the UK with her breeder Liz Calikes and did well at her first show back with mommy.
She became 5th (VHC) in open bitches and I am happy she behaved for Liz.



Int'l Dog Show Munich/D - march 19th
judge: G. Schicker(D)





That was a great day for Cash' son "Jimmy".

He wins intermediate class with VDH-Cha. and becomes reserve best male with res. CAC and res. CACIB (=CACIB).

Expertly handled by Kirsten Simonsen.



CRUFTS Dog Show/GB - march 11th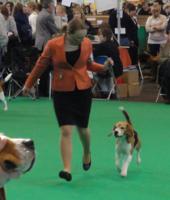 Both - Cash and Breeze - where shown at Crufts this year after a long break from the showring.

Breeze is now back in the UK to compete in the showring with her breeder Liz Calikes.


International Dog Show Glogów/PL - jan 28th

It was baby "Senna's" first outing where he did so well. His birthdaypresent for me was a "best baby in breed" and a "res BEST BABY IN SHOW"!
Thanks to the judges.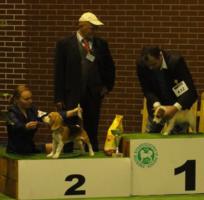 Finland jan 26th

Franjean Adelaide for Komsilan "Hertta" visited the famous Daragoj Kennels and we got a nice pic on her stacks.



Finland jan 21st

Fingers crossed for puppies between "Cash" and Punapihlajan Cinta "Iita".
http://www.komsilanbeagle.info/Pentuja.html




Many thanks to my friend Kirsten with your help to get Cash' semen.



New picture of baby "Senna" - Franjean Ayrton Senna